Prudential 'fails in its bid to buy Asian insurer AIA'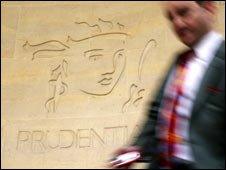 Prudential has failed in its bid to buy AIA, the Asian insurance business of US group AIG, the BBC understands.
BBC business editor Robert Peston said the deal had collapsed after Prudential failed to negotiate a lower price.
In March, Prudential agreed to buy AIA for $35.5bn (£24.6bn), but last week asked for the price to be cut to nearer $30bn after shareholder opposition.
AIG said on Tuesday that it would not "not consider" any revision to the terms of the deal.
Our business editor said AIG's decision "kills off one of the most ambitious attempts to expand overseas by a British company".
Prudential will now likely have to pay AIG a termination fee of £150m, and many millions of pounds in legal fees.
Its attempt to reduce the price of the deal came after a number of its shareholders said it was planning to pay too much.
The UK insurer said in a statement that it had tried to cut the value of the deal to $30.38bn, but given AIG's refusal to renegotiate terms it was now "considering its position".
It has previously called the deal a "one-off" opportunity to access the Asian market.
Prudential's shares closed Tuesday trading up 6.3% or 34 pence to 575.50p.
Robin Geffen of Neptune Investment Management - who had joined shareholder opposition to the planned acquisition - said it appeared that "common sense had prevailed".
"From the beginning it has been an absurdly ambitious attempt by the Pru to buy a large Asian company, at a very high price, with a very unclear strategy," he added.
Prudential had needed shareholder approval to buy AIA - not least because it had asked them to buy £14.5bn of new shares to fund the acquisition, a record rights issue for a UK company.
A vote on this rights issue had been due to be held on 7 June.
The apparent collapse of the deal will likely put pressure on the Prudential's chief executive Tidjane Thiam, who had led the takeover effort.
Opponents to the AIA deal, who had formed a Prudential Action Group, had already been seeking to raise support for a vote of no confidence in Mr Thiam.
The group had said that at least 15% of shareholders intended to vote against the takeover.
Related Internet Links
The BBC is not responsible for the content of external sites.