Gaza boat man's Leicester family concerned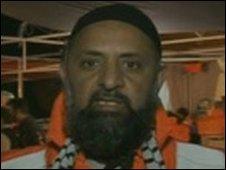 The family of a Leicester aid worker on board a boat intercepted by Israeli forces as it tried to approach Gaza are concerned he has not been in contact.
Ismail Patel was travelling on a ship carrying aid supplies when it was boarded by armed commandos who opened fire on Saturday night.
At least 10 people were killed in the incident and many others injured.
Mr Patel's brother Shockat said it was "very unusual" for him to be out of communication with family.
He added: "He was tweeting and blogging constantly while he was there.
"He sent an email the day before and was speaking to the family on the phone three hours before the ship was boarded.
"Everything we know is what's out there, that there's been no British casualties, and that's what we're holding onto at the moment."
The families of other British aid workers Sakir Yildirim and Cliff Hanley, from Bristol, and Alexandra Lort-Phillips, from Wiltshire, are also waiting for news.
Mr Patel said his family had concerns about 47-year-old Ismail, who is the chairman of Al Aqsa - an organisation promoting peace in Palestine, going to Gaza.
He added: "As a family we had a discussion and there were some voices raised in concern.
"He went there out of compassion. The blockade in Gaza, the children not getting medication, the helpless, he really wanted to do something about it. That's his drive."
The six-ship flotilla, carrying 10,000 tonnes of aid and hundreds of people, left the coast of Cyprus on Sunday and had been due to arrive in Gaza on Monday.
The UN Security Council has called for a "prompt and impartial" investigation into the raid.
Israel has said its troops were acting in self-defence.
Related Internet Links
The BBC is not responsible for the content of external sites.