Row over Paignton beach pollution advice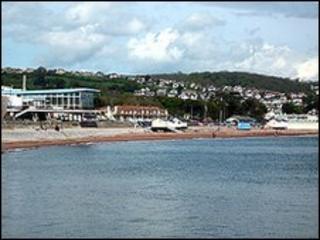 Torbay's mayor has clashed with environmentalists who said bathers should avoid one of the resort's beaches.
Paignton beach was given a pass on pollution by the Marine Conservation Society (MCS) in its latest Good Beach Guide.
But it said that was not good enough for new standards set to be enforced in 2015 and suggested bathers should choose "somewhere else".
Mayor Nick Bye called the suggestion "nonsense".
Paignton and Plymouth Hoe were given passes by the MCS in its report which covers May to September 2009.
The Environment Agency said that during periods of heavy rainfall Torbay received contamination from storm water and sewage overflows which come out into streams and bathing water.
Thomas Bell from the MCS: "A pass would not be my first choice to go swimming.
"They are in danger of failing the new improved standard.
"If you're a surfer or swimming deeper than your knees, our first choice would be to pick a beach we recommend.
"I would suggest perhaps picking somewhere else if you're after a swim."
Mr Bye said: "It really is a nonsense to recommend not going into Paignton.
"Water quality results for this season show that all main beaches in Torbay including Paignton are receiving an excellent rating.
"Millions have been spent improving the water quality."
He added: "I was brought up on the beaches in Paignton. It didn't do us any harm as children."