Nine family members rescued from muddy Somerset river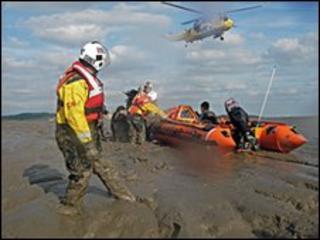 Nine members of the same family had to be rescued after becoming trapped in mud at the mouth of the River Axe in Somerset.
The three adults and six children, from Birmingham, were trying to cross on foot from Weston-super-Mare to Brean.
The youngsters, including an infant, were suffering from exhaustion and starting to develop hypothermia.
Five people were airlifted to shore by an RAF helicopter. The rest were taken to Weston Bay yacht club by lifeboat.
RNLI helmsman Liam McDermott said: "This is the most dangerous part of Weston Bay.
"It looks simple to cross but is impossible."
Despite signed warnings, tourists regularly become stranded in the Weston mudflats, prompting rescues by lifeboat crews.
Earlier this month, cars were banned from part of Brean beach in an attempt to cut the number of motorists getting stuck in the mudflats