Derry company gets app on iPad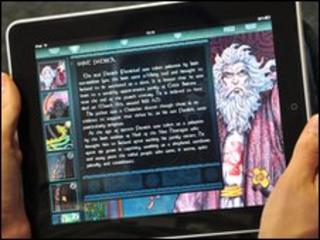 A company from Londonderry has become one of the first Irish companies to develop an application for the new Apple iPad.
EyeSpyFX, a software development company, was established by University of Ulster academic Anthony Hutton in 2002 and was initially based in the business incubation centre at the University of Ulster's Magee campus.
The app, Ireland; Myths and Legends, should be available by the middle of this month.
The app has been developed to display the work of one of Ireland's best-known artists, Jim Fitzpatrick, who specialises in colourful and decorative Celtic artwork.
Until now, EyeSpyFX has specialised in the remote control of robotic devices via the web.
The company's first product was a mobile phone app for controlling pan and tilt web-cams, and it evolved into a specialist app developer working with a range of global web-cam and security-cam manufacturers.
'Irish content'
Mr Hutton said that the collaboration with Jim Fitzpatrick came about as a result of a chance conversation at an international trade show in Barcelona in February this year.
"Our products were attracting a lot of interest from international buyers," Mr Hutton said.
"They seemed surprised, not only that the company was based in Ireland, but also that it had no specifically Irish content."
He said that they felt the iPad would be an ideal platform for Jim Fitzpatrick's art.
"The app allows the user to explore and expand the finest details of his work, which simply isn't possible when viewing art in traditional formats like books or posters," he said.
"It will allow people to see the work in an entirely new and entertaining way."
EyeSpyFX applications are available on multiple platforms, including Blackberry, Sony Ericsson, Samsung, Nokia, Android and iPhone.