Amanda Knox in court over police beatings claims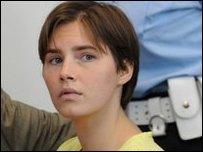 US student Amanda Knox, who murdered Briton Meredith Kercher in Italy, has appeared in court accused of slander over claims she was beaten by police.
Knox is serving a 26-year jail term for the murder of Miss Kercher, from Coulsdon, Surrey, in Perugia in 2007.
In the trial, Knox, 22, twice claimed she had been beaten during police questioning. Police deny misconduct.
Knox's Italian ex-boyfriend, Raffaele Sollecito, and Ivorian Rudy Guede have also been convicted of murder.
Sollecito was jailed for 25 years and Guede for 30 years. All three are appealing against their convictions.
At the preliminary hearing of the slander charges in Perugia on Tuesday, Knox sported a shorter haircuit and yellow T-shirt.
During the murder trial, she claimed police had beaten her to get her to name Miss Kercher's killer.
She also said police called her a "stupid liar" and threatened her with prison. But she said she was unable to identify the officers who hit her.
At the time, the prosecutor in the case said there was no proof of assault.
Under Italian law, slander can lead to a fine and/or a prison sentence of up to six years.
Last November, Knox's divorced parents were placed under investigation for repeating their daughter's claim that police officers had beaten her during questioning.