Hunterston coal power plan submitted to ministers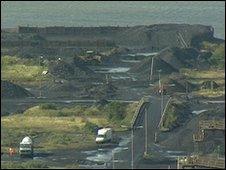 A full planning application for a £3bn coal-fired power station at Hunterston in Ayrshire has been submitted to the Scottish government.
Ayrshire Power wants to build a plant with experimental carbon capture and storage (CCS) technology.
If the proposal is approved, the facility would be the first of its kind in the UK.
Environmentalists oppose oppose the scheme and say it will damage local wildlife and the environment.
They argue it makes a mockery of the government's commitment to reducing carbon emissions.
The proposals, by Ayrshire Power, which is owned by Peel Energy Ltd, are for a site between the existing Clydeport coal handling facility at the Hunterston Terminal, and the Hunterston B nuclear power plant.
The developers said the facility could provide energy to three million homes for decades, while capturing and storing damaging carbon emissions if that technology can be proven.
CCS technology would remove carbon dioxide produced by the station. This would then be turned into liquid using chemicals and stored underground.
The energy company also claimed the new power station would generate a "significant" number of jobs in the area, with up to 1,600 people being employed during construction and 160 permanent jobs when the power station is running.
Ayrshire Power project director Muir Miller said he was pleased the application had "now progressed to the next stage of the planning process".
"We believe our proposal supports the UK and Scottish governments' commitment to leading the way in developing CCS to assist in decarbonising the UK's electricity sector by 2030," he said.
"We remain determined to deploy this technology at full scale on a modern supercritical power station, supported by appropriate regulatory and fiscal measures."
WWF Scotland, and other local and national groups, however, said they were preparing to resist the plans, which they claimed would send the wrong message about Scotland's energy future and could damage the environment and wildlife.
They claimed the vast majority of carbon emissions at the new plant would still be released into the atmosphere.
Head of policy at WWF Scotland, Dr Dan Barlow, said: "We all know the environmental threat already facing people and wildlife from climate change.
"Any proposal as big as this, which fails to capture all its carbon emissions from day one, would undermine Scottish government plans to decarbonise the power sector and be a disaster for Scotland's reputation as a leader in tackling climate change."
He added: "Research published by WWF and other groups shows Scotland simply does not need new coal.
"A combination of improved energy efficiency and increased use of Scotland's wealth of clean renewables is more than adequate."
Tim Cowen, from campaign group Communities Opposed to New Coal at Hunterston (Conch), called on the Scottish government to reject the application.
He said: "If the Scottish government support a dirty coal-fired power station at Hunterston it would make a mockery of their commitment to cut carbon emissions and will make it impossible for them to reach their own climate change targets."
Scottish Green MSP Patrick Harvie said the coal-fired plant "must never be permitted to go ahead".
"A new coal-fired power station would inevitably mean new opencast coal here in Scotland or dirty coal imports from overseas," he said.
"Even if the company's plans to capture and store carbon were to work, and the scientific community is split as to whether it will ever be feasible, Ayrshire Power propose to capture only a small amount of the pollution this scheme would cause."
SNP MSP for the Hunterston area Kenneth Gibson also voiced his opposition, and encouraged others to object too.
He said: "Such a development is neither wanted, nor needed.
"Indeed when I last met Mr Muir Miller he conceded that any electricity produced would be for export to England.
"The environmental consequences of APL's proposal would be extremely negative."
A public consultation on the planning application is due to run until 15 July.
Related Internet Links
The BBC is not responsible for the content of external sites.