Russian poet Andrei Voznesensky dies aged 77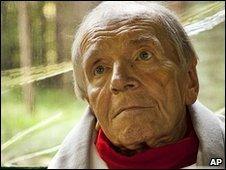 Poet Andrei Voznesensky, one of the most daring writers of the Soviet era, has died aged 77.
Gennady Ivanov, the secretary of Russia's Writers Union, said he passed away peacefully at his home.
Best known for his unusual rhymes, Voznesensky was often criticised by orthodox Soviet writers.
His books of poetry included The Triangular Pear and Antiworlds. Some of his works were later adapted for theatre.
Voznesensky's work contrasted sharply with other Soviet poetry and Soviet leader Nikita Khrushchev once threatened to exile him, yelling at a him during a meeting with art and literary figures.
During the 1960s, he frequently travelled abroad to Europe and the US and just like fellow poet Yevgeny Yevtushenko, Voznesensky's readings once filled stadiums.
In 1976, he had a minor planet named after him and in 1978, Voznesensky was awarded the USSR State Prize.