Israel still dominating headlines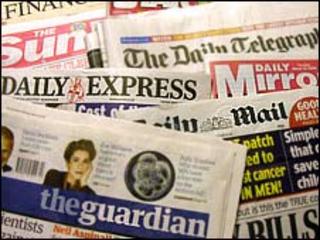 The repercussions from the Israel's military operation against an aid flotilla for Gaza continue to be widely reported in Wednesday's papers.
The Guardian says it is now clear that work has to start on rebuilding a peace process worthy of the name - one based on talking to, not ignoring, Hamas.
The Daily Mirror poses the question: "Is Israel a rogue state?"
In the paper John Pilger calls it a "criminal state", but the Jewish Chronicle says Israel is just trying to defend itself.
The long term credibility of oil giant BP is now at stake following the fall in its share price, says the Times.
The Daily Express reports that BP has "the smell of death about it", and pension funds will be hit.
Meanwhile, the Daily Telegraph urges the company to fight its corner more effectively in handling the slick.
And the Financial Times argues that it would be "childish" of the Obama administration to try to take charge of cleaning up the Gulf of Mexico slick.
The Daily Mail is among several papers to report the death of a UK climber, shortly after conquering Mount Everest.
Peter Kinloch, 28, an IT specialist for Merseyside Police, was said to be elated at the summit of Everest.
But during the descent he became blind, possibly due to a brain haemorrhage. A bid to bring him down failed and he was eventually abandoned.
Mr Kinloch's father tells the Sun that at least his son fulfilled his ambition and "stood on top of the world".
The face of Arsenal footballer Theo Walcott appears on many of the front and back pages after his omission from England's World Cup squad.
The Daily Express says the player was so shocked by Fabio Capello's decision that he checked that the telephone call he received from England's coach was genuine and not a cruel hoax.
And the Independent offers ways for Walcott to take his mind off the World Cup.
Its ideas include the player using his pace to run with the bulls in Pamplona.