TV talent act prompts complaints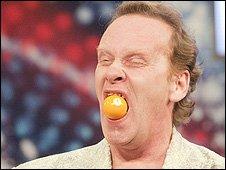 Complaints about Britain's Got Talent are being looked at by the media watchdog after viewers raised concerns about glass swallower Stevie Starr.
Ofcom said they had received "a handful" of complaints about the act, which saw Mr Starr swallow a lightbulb among other items.
Some viewers were concerned that it would encourage children to try dangerous behaviour.
An Ofcom spokesman said they were investigating the complaints.
Mr Starr - also known as The Regurgitator - appeared on Monday night's Britain's Got Talent semi-final but failed to win a place in this weekend's final.
He was seen appearing to swallow and then bring up a succession of objects, including coins, a lightbulb, a mobile phone and an engagement ring belonging to judge Amanda Holden.
He swallowed the ring along with a padlock and key, and the ring re-emerged entwined within the lock.
ITV1 broadcast a warning before the act was shown, urging people not to try the stunts at home.
Related Internet Links
The BBC is not responsible for the content of external sites.