Cemetery murder suspects 'will be treated fairly'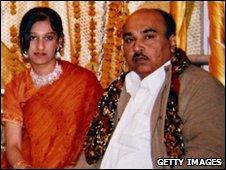 Two men who allegedly took part in the gang shooting of a Lancashire family in Pakistan and then went on the run will be treated fairly, local police say.
Mohammad Yousaf, 51, his wife Pervez, 49, and daughter Tanya, 23, were killed at a cemetery near Gujrat on 20 May.
The suspects were given "protective bail" last week but did not attend court.
Gujrat police chief Tariq Abbas Qureshi said he hoped the pair would surrender soon, after his reassurances.
The Yousaf family who lived in Nelson, were praying in the cemetery when they were surrounded by a four-strong gang and shot several times.
One of the gunmen was also killed. The fourth suspect was arrested at the scene and remains in custody, police said.
The two suspects on the run, brothers Naveed and Sheraz Arif are understood to be Mrs Yousaf's nephews.
If a suspect is granted protective bail it means they cannot be arrested until they have had their case heard in court.
The brother's mother, Rafiquat Bibi, has been charged with incitement to murder.
The killings are believed to have been triggered by a divorce between Mr Yousaf's son and a girl in the nearby village.
Related Internet Links
The BBC is not responsible for the content of external sites.