Thailand's red-shirts still reeling after protests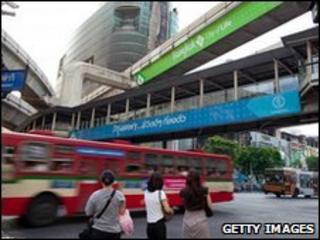 It has been two weeks since the Thai military moved to end a bitter nine-week political protest in Bangkok.
The streets of the capital have been cleaned and are now clogged with traffic once more. The charred wreckage of a huge shopping centre stands testament to the arson, which followed the protest leader's surrender.
But in most respects life is rapidly returning to normal.
Eighty-eight people were killed and more than 1,000 injured during the long occupation of parts of the city by anti-government demonstrators known as the red-shirts.
The protesters came to the capital to demand early elections, claiming that the current government is undemocratic.
With the bloody confrontation now over, the government is still in place, several red-shirt leaders are in detention, gunmen from the movement's armed wing are on the run and Thailand appears more divided than ever.
The capital may be recovering but in the north-east of Thailand, red-shirt supporters are still reeling.
Frustrations
I first met Tongsri and Prachob in March as they were preparing to join the rally in Bangkok. I met them again inside the protesters' fortified camp in the capital's commercial centre.
They were still there at the very end, witnessing the battle as advancing soldiers came under fire from militant gunmen on the red-shirts' side.
Now, safely back at home in the north-eastern province of Udon Thani, the couple are struggling to come to terms with all that has happened.
As the monsoon rains beat down on the roof of their two-room house, they sat on the concrete floor surrounded by red T-shirts, red head bands and a red flag - the cherished uniform of the anti-government protest movement.
"Why is it so difficult to get real democracy? What happened to Thailand?" Tongsri asked me, her face betraying a mixture of bitterness and bafflement.
"I can't accept they used the army to kill people."
As news of the military operation spread, local red-shirt supporters in Udon Thani vented their frustration on the most obvious symbol of government power they could find - the town hall.
The building has been wrecked, gutted by fires started by petrol bombs thrown through smashed windows.
Charred bits of wood hang from gaping holes in the building's facade and piles of glass and debris still litter the entrance.
It is not clear if this violence was premeditated or spontaneous but there was real hatred behind it. Hatred which the acting governor, Wirat Limsuwat, now has to deal with.
"They've been storing up these emotions for many years," he told me.
"This province has been called the capital of the red-shirts. So it will take a long time to counter that."
Underground
Back in March, Udon Thani's red-shirts were in an excited, expectant mood. But now, the community centre where they gathered to collect donations and make their plans is almost deserted.
Photographs of smiling crowds of red-shirt protesters still adorn the walls. Several feature the local leader, Kwanchai Praiphana, currently in police detention in Bangkok.
The door to the local radio station is locked. It was shut down under government imposed emergency laws.
The fear is that without places to meet openly the anti-government movement might go underground and become further radicalised.
The government says it is determined to prosecute those it describes as terrorists, but has also tried to reach out to peaceful protesters who have genuine grievances.
The deputy chairman of the governing Democrat party, Kraisak Choonhavan, believes those efforts have been consistently thwarted by the exiled former prime minister, Thaksin Shinawatra, who was ousted in a military coup in 2006 and subsequently found guilty on conflict of interest charges.
Mr Thaksin still enjoys a loyal following among much of the red-shirt rank and file.
"People were being trucked in [to the protest] with financial support from his supporters," said Mr Kraisak.
"MPs, local entrepreneurs and himself, fanning complete hatred for the government."
Given that level of anger and the fact that the red-shirts clearly do not trust the government or the state media, how can the authorities persuade former protesters that their concerns will be addressed?
That, Mr Kraisak agrees, is a major challenge.
"If the government continues to propagate one-sidedness and does not allow the opposition to voice their sentiments or issues at all, it will be difficult for Thailand to be labelled a true democracy," he says.
The government says it is determined to press ahead with its self-described road map to national reconciliation.
If that is to have any chance of success someone will have to convince people like Tongsri and Prachob.
Back at their small holding, Prachob played me a local folk tune on the two-stringed guitar he made himself.
It is sometimes derided by trendy Bangkokians as "hillbilly music" - yet another grievance to add to the list.
"I'm ready to do it all again," said Tongsri as she dug at some weeds in the yard. "If there's another red-shirt rally I'll go. I can't stop now."
Thailand's deep divisions, so brutally exposed by weeks of bitter protest, are far from being healed.