Star Trek star Patrick Stewart knighted at Palace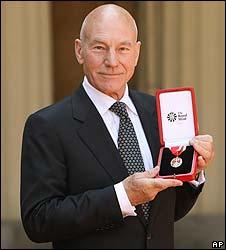 Actor Sir Patrick Stewart paid tribute to a former teacher as he was knighted by the Queen at Buckingham Palace.
The 69-year-old said he owed "literally everything" to the English teacher who first encouraged him to perform.
"Although many people in my life have had great influence on me, without this man none of it would have happened," he said following Wednesday's investiture.
The classically trained actor is best known for his roles in Star Trek: The Next Generation and the X-Men films.
He was recently seen on the London stage appearing alongside fellow actor knight Sir Ian McKellen in Waiting for Godot.
Sir Patrick said his knighthood - announced in the New Year Honours List - had been "an unlooked-for honour".
"But as I grew up as a child, falling in love with the theatre and Shakespeare, my heroes were Sir Laurence Olivier [and] Sir John Gielgud," he continued.
"The knights of the theatre represented to me not only the pinnacle of the profession but the esteem in which the profession was held.
"To find myself, to my astonishment, in that company is the grandest thing that has professionally happened to me."
The Yorkshire-born star said he would be celebrating his knighthood with Cecil Dormand, the teacher who first encouraged him to consider acting as a profession.
"He was the one that put a copy of Shakespeare in my hand [and] said, 'Now get up on your feet and perform'."
Earlier this week it was announced that Sir Patrick would chair a jury and deliver a talk at this year's Edinburgh International Film Festival.
The actor was recently seen at the Minerva Theatre in Chichester playing William Shakespeare in the Edward Bond play Bingo.
Related Internet Links
The BBC is not responsible for the content of external sites.