Q&A: The Blagojevich scandal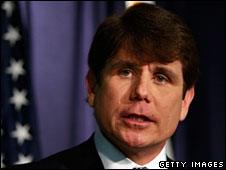 Rod Blagojevich, the scandal-plagued former governor of Illinois, has been found guilty of lying to federal agents.
A federal jury in Chicago found him guilty of making false statements but was unable to reach a unanimous verdict on 23 other corruption charges.
Among the allegations he faced was that he attempted to "sell" the US Senate seat vacated by President Barack Obama. Blagojevich has denied any wrongdoing.
The jury's verdict was delivered after 14 days of deliberations, following a two-month trial that featured hours of conversations wire-tapped by the FBI.
Blagojevich was found guilty of lying to federal agents when he said he did not track campaign contributions and that he kept a "firewall" between his political campaigns and his government work.
But the jury was deadlocked on 23 other charges.
He faces a potential prison term of five years and a fine of up to $250,000 (£160,000) on the single guilty count.
US District Judge James Zagel said he intended to declare a mistrial on the 23 undecided counts, which would lead to a new trial.
He set a hearing for 26 August to decide how and when the retrial of Blagojevich and his brother Robert, who also faced related charges, would be held.
US attorneys said the government planned to retry the case "as quickly as possible".
What was Mr Blagojevich accused of?
He was arrested in December 2008 after a lengthy investigation by federal prosecutor Patrick Fitzgerald. He faced 24 charges in total.
attempting to obtain campaign contributions in exchange for official actions
attempting to use state funds for the private purpose of inducing the Tribune Company to fire Chicago Tribune editorial board members critical of him
attempting to obtain personal financial benefits for himself in return for his appointment of a US senator
Mr Fitzgerald accused the governor of doling out government contracts and grants in return for campaign contributions, or - in the case of the Tribune company - favourable newspaper coverage.
Mr Fitzgerald also released transcripts of intercepted phone conversations conducted by Mr Blagojevich. He described the governor's actions as "a corruption crime spree".
Illinois Attorney General Lisa Madigan filed a lawsuit with the state's supreme court to have the governor declared unfit to serve but her action was rejected by the court.
After an investigative panel of Illinois state representatives recommended his impeachment, the state House of Representatives impeached him on 14 January 2009.
Later that month, in what was effectively a trial, the Senate convicted him - in a 59-0 vote - of abuse of office and ousted him.
He was replaced by Patrick Quinn, a fellow Democrat and the state's lieutenant governor.
What has Mr Blagojevich been doing since his impeachment?
Mr Blagojevich continues to protest his innocence in public appearances.
"As Winston Churchill said... a lie when it's told gets halfway around the world before the truth gets a chance to put its pants on. So when the trial starts... that's a chance for my pants to be pulled up," he said on NBC's Today show in April 2010.
In 2009, Mr Blagojevich attempted to star in the reality TV show I'm a Celebrity... Get Me Out of Here! which was filmed in Costa Rica.
A judge refused his request to travel internationally, so his wife took his place on the programme.
Earlier this year, Mr Blagojevich starred in TV show The Celebrity Apprentice but was fired by Donald Trump in the fourth episode.
He has also released an autobiography and guest starred in the musical comedy Rod Blagojevich Superstar.
Mr Blagojevich again made headlines in January 2010, when he told Esquire Magazine: "I'm blacker than Barack Obama. I shined shoes. I grew up in a five-room apartment. My father had a little laundromat in a black community not far from where he lived."
Mr Obama did not respond, and Mr Blagojevich later said that he had chosen his words poorly.
What happened to the man Mr Blagojevich appointed to fill the Senate vacancy?
Senate Democrats initially pledged to block anyone appointed by Mr Blagojevich, including the eventual appointee, Roland Burris.
On 6 January 2009, the first day that the new Congress was due to sit, Mr Burris attempted to enter the Senate chamber.
He was denied entry by Capitol officials, who said he was "not in possession of the necessary credentials" because his appointment had not been signed off by the Illinois Secretary of State.
But after meeting with Senate leaders, and later swearing under oath that he had not offered Mr Blagojevich anything in return for the seat, the leadership relented and Mr Burris was duly sworn in as the junior senator for Illinois.
Mr Burris has kept a relatively low profile since then and has voted along party lines.
The seat is up for election during the mid-term elections this coming November, but Mr Burris decided not to enter the race.
What links the Obama administration to the Blagojevich scandal?
Mr Blagojevich has been a key figure in Illinois politics for many years and has consequently had dealings with other Illinois politicians, including Mr Obama and his chief of staff, Rahm Emanuel.
Senior White House Adviser David Axelrod had also advised Mr Blagojevich in his early congressional races.
In 2002, Mr Obama (then an Illinois state senator) supported Roland Burris in the primary that determined which Democrat would run for the state governorship.
When Mr Burris failed to win the nomination, Mr Obama endorsed the winner - Mr Blagojevich.
He and Mr Emanuel went on to act as informal strategists on Mr Blagojevich's campaign.
Mr Blagojevich returned the favour in 2004, endorsing Mr Obama in his Senate election battle (although he had not backed him in the primary).
Mr Obama also endorsed Mr Blagojevich in his 2006 re-election bid.
As for Mr Burris, he has donated a total of $4,500 (£3,086) to Mr Blagojevich's campaign fund over the years, with his most recent donation coming in June 2008, according to state records.
Related Internet Links
The BBC is not responsible for the content of external sites.