Gaza crisis shows fault lines among UK Jews
By John McManus
BBC News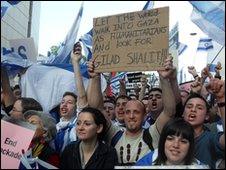 Up to 500 demonstrators from Britain's Jewish community have held a rally outside the Israeli Embassy in London, to offer support to the country following the death of nine activists on a ship bound for Gaza.
They say that Israel is being unfairly demonised.
They were opposed by a smaller counter demonstration of pro-Palestinian activists.
Police say one man was arrested for possessing an offensive weapon.
Britain's Zionist Federation organised the protest at short notice, using Facebook and e-mails to urge people to come to the embassy in west London.
Protestors from both sides were herded into pens on Kensington High Street, while the gates leading to the private road on which the embassy is situated remained closed and guarded by several police officers.
The chairman of the Zionist Federation, Andrew Balcombe, told the crowd that Israel had enforced the blockade to protect itself.
He said that Hamas were terrorists, and had fired thousands of rockets into Israel. He said that - by comparison - Israel's actions on the high seas were perfectly legal.
"Israel and Egypt both blockade Gaza, it's not just Israel, it's Egypt as well and more people and goods go in through Israel than anywhere else".
Mr Balcombe also said that the situation in Gaza was not at crisis point.
"We want people to know that people aren't starving in Gaza. You go and have a look at the adverts for the clubs in Gaza, they're doing very very well thank you very much.
"There's lots of food. Israel takes in a day into Gaza, more than those ships brought".
Many of the people supporting Israel were teenagers, and several of them expressed their frustration at what they saw as unfair demonisation.
Douglas Stewart, 17, said that the media have used the situation in Gaza to target Israel.
"We're not here to support all of Israel's action - every state has its weaknesses - but we're here to support the image of Israel as a haven for the Jewish people, as a haven for any community.
"It's the most democratic state in the Middle East. There are so many good aspects about it".
He denied a charge made by some Palestinian supporters, that he and other young British Jews had been misled by their elders.
"There's some Jews over there [at the opposing demonstration]. I think they're indoctrinating the nation. They are a small minority of people.
'Brainwashed' by propaganda?
Mr Stewart also said he thought that British Jews who supported Israel were also more likely to back the British state than Palestinian supporters.
"The vast majority of Jews support Israel, and support Britain. We're very patriotic".
Further down the road at the opposing demonstration, Deborah Fink from the organisation Jews for Boycotting Israeli Goods (J-BIG), said it was "disgusting" that so many children were present to support the Israeli state.
"They've been brainwashed. We wouldn't bring loads of children out to things like this. They go to schools where they're brainwashed with Israeli propaganda.
Ms Fink is one of many British Jews who campaign for an end to the occupation of Gaza and the West Bank.
"There will never be peace while there is an occupation of Gaza".
Ms Fink also said that she believed that some supporters of the English Defence League were also at the protest.
Organisers of the pro-Israel protest said they had made it clear that the EDL, who have been accused of Islamophobia, were not welcome but that a separate space had been reserved for them.
Both sides say they will continue to voice their opinions loudly, and more demonstrations by pro-Palestinian groups are expected in London this weekend.
Related Internet Links
The BBC is not responsible for the content of external sites.