Leicester aid worker 'now safe' after Gaza boat ordeal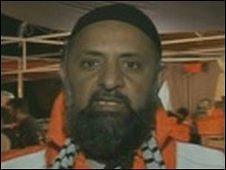 A Leicester aid worker who was held in Israel is now safe in Turkey, his family said.
Ismail Patel, 47, from Oadby, was on board a ship carrying aid supplies to Gaza when it was intercepted by Israeli forces.
Mr Patel's family have spoken to him on the phone and said they are "relieved" the father-of-three is safe.
He was deported from Israel to Turkey, where he is expected have a medical check before returning home.
His brother Shockat said: "He's absolutely safe which is the main thing. He obviously has no possessions left on him, but we're relieved."
'Public relations disaster'
Mr Patel is chairman of Al Aqsa, an organisation which describes itself as "concerned with defending the human rights of Palestinians and protecting the sacred al-Aqsa Sanctuary in Jerusalem".
He was travelling with activists to Gaza when Israeli commandos intercepted the group on Saturday night.
The six-ship flotilla was carrying 10,000 tonnes of aid and hundreds of people. Nine people were killed in the attack and many others injured.
The UN Security Council has called for a "prompt and impartial" investigation into the raid.
Israel has said its troops were acting in self-defence.
Solicitor General Edward Garnier, who is Mr Patel's MP, said: "We will need to be assured that what was done was proportionate, necessary and appropriate.
"I think its undeniable that this has been a public relations disaster for Israel, irrespective of the rights and wrongs of the matter."
Related Internet Links
The BBC is not responsible for the content of external sites.