Muslim Brotherhood says it will back ElBaradei campaign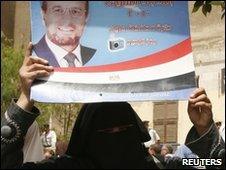 Egypt's biggest opposition group has said it will back the former UN atomic watchdog chief Mohamed ElBaradei's political change campaign, reports say.
The Muslim Brotherhood failed to win any seats in elections to the upper legislative house on Wednesday.
It alleged the vote for the Shura Council had been rigged.
Mr ElBaradei has launched a campaign for political change in Egypt, but has not officially declared he will contest elections next year.
The Muslim Brotherhood said it would help Mr ElBaradei collect signatures in his efforts to gather a million names to demand changes to the constitution and emergency laws, news agency Reuters said.
President Hosni Mubarak and his ruling National Democratic Party have governed Egypt for the past three decades. He instigated tight security controls which critics say stifle political dissent.
Mr ElBaradei said he would run for president only if the constitution were changed to allow a fair election.
The Muslim Brotherhood is banned in Egypt, but its members have been elected to the lower chamber of parliament as independent candidates.
"None of the Brotherhood's 13 candidates have won any seats in the 2010 Shura Council elections, a blatant proof that rigging took place," said Mohamed Saad el-Katatni, who heads the Brotherhood's lower house bloc.
The Shura is an advisory council made up of 264 members; 176 are directly elected and 88 appointed by the president.
Political analysts said the Shura election result was a key indicator of what could be expected in elections in 2011.
An Egyptian human rights group reported widespread voting irregularities.
Related Internet Links
The BBC is not responsible for the content of external sites.