JP Morgan in record FSA fine for risking clients' money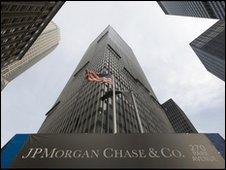 The Financial Services Authority (FSA) has fined JP Morgan Securities a record £33.32m ($48.2m).
The penalty from the city regulator is for failing to protect its clients' money by lumping it in with its own over a period of almost seven years.
Under the FSA's rules, firms are required to keep customers' funds in separate accounts to protect it in case the financial firm becomes insolvent.
The misconduct was not deliberate and no clients suffered losses.
JP Morgan reported the error once it was uncovered, and worked with the FSA during the course of the investigation, the regulator said.
For that, it received a 30% discount on the original £47.6m fine.
During the period, the client money balance held varied between $1.9bn (£1.31bn) and $23bn.
Had the firm become insolvent at any time during this period, these funds would have been at risk of loss.
The BBC contacted JP Morgan Securities, which declined to comment.
Margaret Cole, FSA director of enforcement and financial crime, called the error a "serious breach".
She said: "This penalty sends out a strong message to firms of all sizes that they must ensure client money is segregated in accordance with FSA rules."
And, she said, JP Morgan Securities might not be the last to be fined: "Firms need to sit up and take notice of this action- we have several more cases in the pipeline."
City law firm CMS Cameron McKenna called it "a staggering fine".
"If this doesn't serve to wake up every senior manager to check that he or she has carefully identified all risks and is properly managing them, then nothing will," said Simon Morris from CMS.
"The one surprise is that FSA hasn't also gone against the senior managers responsible for this mistake, which is now its normal practice."
The FSA sent out a warning to the industry last year after discovering that a number of firms had not been segregating client money adequately.
It set up a new unit within the regulator to specifically supervise client money.
Related Internet Links
The BBC is not responsible for the content of external sites.