Council recoups £850k by selling Aberystwyth offices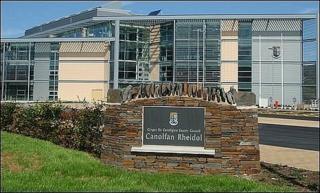 A council has raised nearly £850,000 by selling some unwanted offices in Aberystwyth, exceeding the estimated sale costs by more than £300,000.
Ceredigion council moved into a new £15m building in the town last September, which meant many of its old offices were no longer required.
Workers were transferred to the new base of Canolfan Rheidol, next door to a Welsh Assembly Government office.
The council estimated the empty buildings would bring in £510,000.
Canolfan Rheidol cost £15m and brought a number of Ceredigion council's departments under one roof after they were located in separate offices in Aberystwyth.
A council spokesman said: "The buildings concerned became surplus to requirements once Ceredigion County Council employees were transferred to the new Canolfan Rheidol office in the autumn of 2009."
He added that £847,000 had been recouped from the sale of the offices in Aberystwyth town centre.
Canolfan Rheidol took nearly 18 months to build, and the council said the project was completed on time and on budget.
The departments of finance, social services, education and community services, environmental services and housing, and highways property and works will be located at the new offices.
There are plans to turn Aberystwyth town hall, which is also owned by Ceredigion council and no longer needed, into a library.