Catholic bishop stabbed to death in Turkey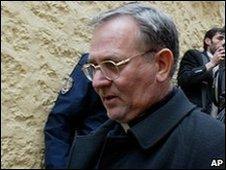 A Roman Catholic bishop has been stabbed to death in southern Turkey, state-run media report.
Luigi Padovese, 63, was attacked in the garden of his summer house in the Mediterranean port of Iskenderun, according to Anatolia news agency.
Police have arrested Bishop Padovese's driver, a man identified only as Murat A. He was suffering from psychological problems, the provincial governor said.
There has been a series of attacks on Christians in Turkey in recent years.
Bishop Padovese, the Pope's apostolic vicar in Anatolia and an Italian national, died in the ambulance on the way to hospital.
He had been due to leave for Cyprus on Friday to meet the Pope and other bishops in a meeting ahead of the church's synod on the Middle East in October.
The Vatican said it was "dismayed" by Bishop Padovese's death.
"It is a terrible... incredible" killing, Vatican spokesman Federico Lombardi told the Italian news agency ANSA.
Provincial Governor Mehmet Celalettin Lekesiz told Associated Press news agency that the suspect had worked for Mr Padovese for four-and-a-half years.
"The initial investigation shows that the incident is not politically motivated," Lekesiz said.
"We have learned that the suspect had psychological problems and was receiving treatment".
There have been several such attacks in recent years, in a country where Christians comprise less than 1% of the mainly Muslim population.