Seven orphaned ducklings saved from busy Keele road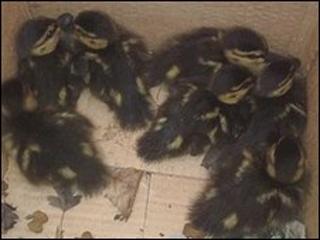 A family of newly-orphaned ducklings has been rescued from a busy road in Staffordshire.
Cars swerved to avoid them after their mother was run over on Keele Road.
Borough dog warden Craig Brown was working nearby and took the ducklings in a cardboard box to Stapeley Grange Wildlife Centre.
"I'm so happy the ducklings have been saved," he said. They will be cared for there until they are old enough to be released into the wild.
A member of the public had spotted the ducklings, believed to be just four days old and rang Sally Griffiths, from Newcastle-under-Lyme Borough Council.
Ms Griffiths said: "I contacted Craig to ask if there was anything we could do quickly to help avoid car accidents and save the ducklings' lives.
"He's a dog warden but is always prepared to go that extra mile to help out."