Cumbria shootings aftermath dominates Friday's papers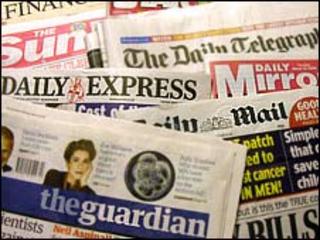 Several papers devote the whole of their front page to those murdered by the Cumbrian gunman, Derrick Bird.
"Twelve lives remembered" is the Times headline above photos and brief biographies of those whose lives were cut short.
The Independent divides the victims into those "targeted for vengeance" and those "murdered at random".
Those killed were, says the Sun, "the best of our country" - decent friendly Britons valued for their kindness.
The Daily Mirror demands that "the lessons of this tragedy are learned".
But most papers agree that this was a one-off crime by a disturbed loner - the kind of man, the Sun tells its readers, who had self-harmed for years.
"The sad truth is that one cannot legislate for the actions of madmen, and it is fatuous to try," says the Daily Telegraph.
Gun laws could be tightened, says the paper, "but in the end the problem is not the weapon, but the wielder".
BP will risk further wrath in the US by pressing ahead with dividend payments to shareholders which could amount to nearly £7bn, the Guardian reports.
"The race to tell all" is the Daily Mail's headline about memoirs being published by senior Labour figures.
The paper says Peter Mandelson will be first out of the blocks with a book to tell the "soap opera" of New Labour.
It will appear this summer ahead of Tony Blair's memoirs and an offering from Alistair Campbell.
Meanwhile, the Daily Telegraph launches a campaign to save the corkscrew.
In doing so, the paper allies itself with the French wine-makers who are rebelling against the growing trend for screw-top bottles.
It says we should side with nature because the cork-oak trees of Spain and Portugal gulp down carbon dioxide faster than the cheapest chardonnay.
And the sound of a cork popping out of a bottle of wine is, it says, "one of the most welcome sounds in the world".