Housing market slowing down, says Halifax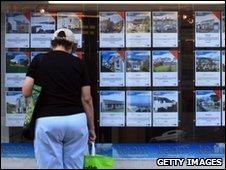 The UK housing market is slowing down again, according to the latest report from the Halifax bank.
Its latest monthly survey shows that prices fell by 0.4% in May, after a 0.1% drop in April, taking the average UK house price down to £167,570.
The figures contrast with those of the Nationwide building society, which said on Thursday that prices had been picking up recently.
The Halifax said that in the past year house prices had risen by 6.9%.
This was faster than the 6.6% annual rate of growth it recorded in April.
But the Halifax explained that this apparent acceleration in the annual rate was due to prices falling at a faster rate a year ago.
"The mixed pattern of monthly price rises and falls so far this year is consistent with a slowing market and is in line with our view that house prices will be flat during 2010 as a whole," said the Halifax's housing economist, Martin Ellis.
"The relative recovery in house prices in 2009 was driven by a boost to demand from reduced interest rates combined with a lack of properties for sale.
"These factors have lost some momentum in recent months," he said.
The Halifax's report says prices have now fallen in three of the past four months, at a time when sales have been in decline.
House sales in the first quarter of the year were 18% down on the last quarter of 2009.
However, the Halifax said it was difficult to tell if this was a temporary decline or the start of a new downward trend in sales.
It said that more homes may come onto the market in the coming months, which may lead to more eventually being sold.
"Estate agents have reported an increase in instructions from new vendors in 10 of the past 11 months," Mr Ellis said.
"The recent suspension of home information packs and uncertainty about changes to capital gains tax may also be persuading more homeowners to put their properties on the market," he added.
Related Internet Links
The BBC is not responsible for the content of external sites.