Pope 'saddened' by murder of Catholic bishop in Turkey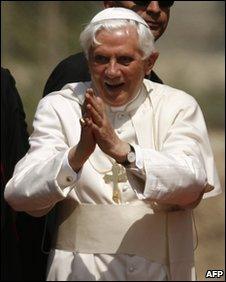 Pope Benedict XVI said he was deeply saddened by the killing of a Catholic bishop in Turkey, but he believed the murder was not politically motivated.
He said he hoped the case would not cloud his visit to Cyprus - the first time a pontiff has gone to the island.
Bishop Luigi Padovese, who was to meet the Pope in Cyprus, was stabbed to death at his home.
His driver, Murat Altun, has been charged with murder. It is thought the man had mental health problems.
Benedict spoke of his "profound sadness" over the stabbing of Padovese.
"We are still awaiting a full explanation but we don't want to mix up this tragic episode with Islam," he said.
"We must not attribute this to Turkey or to Turks... It was not a political or religious assassination. It was a personal thing."
"It... should not be allowed to darken the dialogue [with Islam] in any way," the Pope said.
He also said he hoped the desire for peace in the Middle East would not be diminished after a deadly Israeli raid on a Gaza aid flotilla earlier this week.
A key issue for the Pope on this visit is the survival of minority Christian communities in the Middle East.
In Paphos, in western Cyprus, the Pope said he hoped Cypriots would have the patience to "resolve the remaining concerns" about efforts to reunite their island.
Cyprus has been divided since 1974, when Turkish troops invaded in response to a military coup backed by the junta ruling Greece at the time.
The Pope will not be visiting the breakaway north, which is not recognised internationally.
In the Cypriot capital, Nicosia, the Pope will stay at the apostolic nunciature, which lies in no-man's-land - the buffer zone separating the Greek Cypriot side from the territory occupied by Turkey since 1974.
Related Internet Links
The BBC is not responsible for the content of external sites.