Hungary debt fears worry markets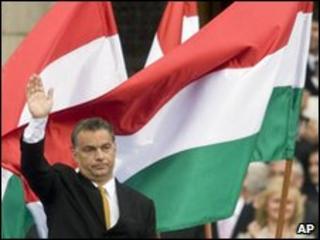 The value of Hungary's currency has fallen sharply against the euro on fears the country could be facing a Greek-style debt crisis.
"In Hungary, the previous [Socialist] government falsified data," said a spokesman for Hungary's Prime Minister, Viktor Orban.
"In Greece, they also falsified data. In Greece the moment of truth has arrived. Hungary is still before that."
The Hungarian currency, the forint, fell by 5.6% against the euro.
The cost of insuring the country's debt, via so-called credit default swaps, also jumped by one percentage point.
This suggests it will be that much more expensive for the country to borrow money in the international markets.
During the global financial crisis, Hungary was forced to seek a $25bn (£17bn) rescue package from the International Monetary Fund and the EU in October 2008.
Despite his negative comments, Mr Orban's spokesman went on to claim that the government could still afford a big tax cut promised during the election campaign in April.
Swiss connection
Of particular concern to markets is the fact that so many homeowners in Hungary took out mortgages denominated in Swiss francs, because of the low interest rate in that currency.
This means that Hungarians have to pay a lot more on their mortgages if the forint loses value against the Swiss franc.
And unfortunately the Hungarian currency has fallen in recent weeks back towards the extreme levels against the Swiss franc reached during the financial crisis.
This leaves markets and economists fearful that Hungarians will default on their home loans, sparking a banking crisis in the country.