Ten acts take Britain's Got Talent final spots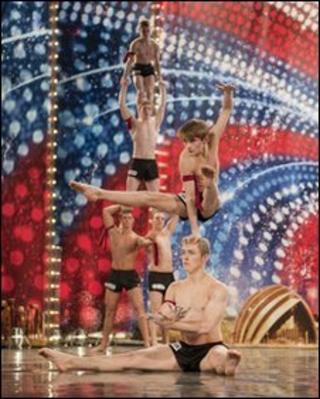 Ten acts are competing in the final of ITV1's Britain's Got Talent, with the chance to perform at the Royal Variety Show for the winner.
Drummer Kieran Gaffney and singer Liam McNally made it to the final after Friday's semis.
Kieran, 13, from Kent, won the popular vote. Liam, 14, was given the deciding vote by Simon Cowell.
Other acts in the final include 81-year-old Janey Cutler and gymnastics troupe Spelbound.
'Absolutely terrific'
After being told he had topped the public vote, Kieran said: "I feel great, I feel over the moon."
For the runner-up spot, Piers Morgan opted for Liam before Amanda Holden sided with dance trio A3, but Cowell plumped for singer Liam.
Cowell said after Liam's performance: "Absolutely terrific - the audience loved it."
Dance troupe Dance Flavourz and pole dancer Alesia Vazmitsel were among those who missed out.
Spelbound are favourites to win the final thanks to their daring routine.
But bookmakers have slashed the odds on singing Scottish grandmother Janey Cutler stealing the title.
She has been called this year's Susan Boyle after her performance of Shirley Bassey's This Is My Life.
Cowell told the 81-year-old that she epitomises everything the show is about.
Dancing dog
Meanwhile Morgan has likened fellow contenders Connected to a young Take That. The boy band's members range from just 13 to 15 years old.
Bookmakers William Hill predict more than £1m will be bet on the final show.
"Spelbound are the big favourites but Susan Boyle got beaten last year so anything can happen," a spokesman said.
Several dance acts are hoping to repeat the success of former winners Diversity and George Sampson.
Teenage body-poppers and best friends Twist & Pulse have coined the phrase "street-omedy" to describe their act, a fusion of streetdance and comedy.
Tobias Mead performs with a floating ball, but dancing dog Chandi's routines with her owner Tina Humphrey have ensured the canine is one of the judges' favourites.
Other acts competing for the £100,000 prize money include singing accountant Christopher Stone and Harry Hill impressionist Paul Burling.
Previous victors including Paul Potts have turned their talent show win into a lucrative career, although none has matched the success of last year's runner-up Susan Boyle.
The singer scored the UK's biggest-selling album of 2009 - and was narrowly beaten to the same accolade in the US by Taylor Swift.