First Minister Carwyn Jones accuses council on schools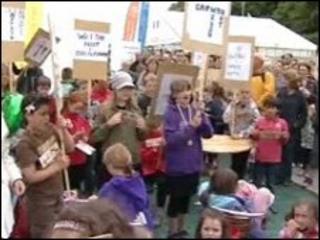 The first minister has accused Cardiff council of "taking five years to do nothing" to address a shortage of Welsh language school places in the Canton area.
Last week he rejected the council's plan to shut an English-medium primary and replace it with a Welsh-medium one.
Around 200 people protested against the decision at the Urdd eisteddfod in Ceredigion.
But Carwyn Jones urged the council to come up with new plans.
He said it was the council's responsibility to find a solution which would not have a detrimental effect on other pupils in the area.
Cardiff council had planned to close Landsdowne Primary School and transfer pupils from Ysgol Gymraeg Treganna to the vacated buildings.
One of the reasons for refusal given by the assembly government was that it would not improve education provision.
Speaking on the eisteddfod field at Llanerchaeron on Friday Mr Jones said he understood people were angry but blamed the council for the situation.
He rejected claims that the decision to block the plan, put foward by the Liberal Democrat-Plaid Cymru council, was politically motivated.
Last week's developments have prompted angry exchanges between Labour and Plaid Cymru councillors.
Divisions
But the first minister called for a "sensible discussion" which does not lead to divisions between English and Welsh schools in the area.
"It's up to the council to think of another way forward," said Mr Jones.
"It needs to be a sensible plan which will move Welsh and English education forward... and that was not true with the current plan.
"It's the council's fault that there was a protest on the Eisteddfod field earlier in the week. They've taken five years to do nothing."
Mr Jones said it was important that the situation in Treganna was resolved as soon as possible.
"It's important that the council think of a way forward which is acceptable to the majority in the education sector and which is lawfully acceptable," he said.
Cardiff council leader Rodney Berman responded by accusing Labour ministers of using schools reorganisation as a political football.
"Local Labour representatives have fought tooth and nail against every solution we have ever brought forward to deal with the situation," said Mr Berman.
"They voted one solution down in 2006 and have fought against every proposal put forward since then to provide Ysgol Treganna with appropriate accommodation."
Mr Berman said that under the current process for determining schools reorganisation proposals it could take the best part of two years for a council to take a proposal through all the steps required before an answer was given by a Welsh minister.
"The proposal which has just been turned down was waiting for a decision from a Welsh minister since August last year," said Mr Berman.
He added: "The fact that the protesters were directing their protest against Carwyn Jones suggests that is where they are putting the blame for this current state of affairs - not with the council."