Newspaper review: Cumbria shootings still a focus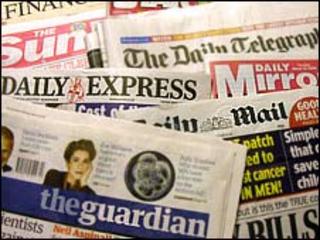 Three days after the shootings in Cumbria, most of the papers are still dominated by what the Daily Mirror sums up as "57 minutes of madness".
Most look for reasons that might provide an explanation of sorts for the eruption of violence.
The Independent looks in detail at the will left by Derrick Bird's father.
It is suggested it may have begun what the paper terms "perceived injustices, conspiracies and misfortunes" that built into a "murderous grudge".
Differences probed
The Daily Mirror prints a facsimile of the legal document that made changes to the will left by Derrick Bird's father.
The Times interprets its impact on Derrick Bird and the twin brother who became his first victim.
It says the differences between the two men were "once ridiculously banal" but now seem "loaded with meaning".
The Daily Express thinks "glimpses of discord" can be seen in a school photo of the brothers taken more than 40 years ago.
'Broken heart'
There are pictures everywhere of a disconsolate Rio Ferdinand.
The Guardian adds his name to its lengthy list of England football captains struck down by injury.
The Daily Telegraph's Henry Winter says: "It's one of those moments that reminds you that, despite all their riches, they're flesh and blood as well, and his heart will be broken."
The Daily Star says England fans will be "devastated". But the Sun counsels against despair. It is "not over yet", it says, "so let's keep dreaming".
Party leader
England have found themselves a new captain but as several papers comment, Labour, after their election defeat, are still searching.
The Guardian says one contender, David Miliband, will set out his ideas for rebuilding the party on Saturday.
The Independent takes a look at him, and the other candidates.
But its headline betrays a sense of dissatisfaction. "Wanted," it says, "a candidate who isn't white, male and Oxford-educated."