Double stabbing during street clash in Bridgeton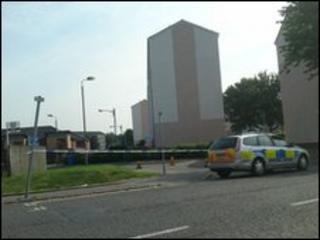 Two men were stabbed after a fight broke out between two groups of people in the Bridgeton area of Glasgow.
Several people had just left a house in Dalmarnock Road when they became involved in a disturbance with another group of young men and women.
The stabbing victims, who were aged 23 and 19, were taken to Glasgow Royal Infirmary where their condition was said to be stable.
The incident happened shortly before 0300 BST.
Detectives said the fight involved a number of men and women aged between 16 and 25.
The suspects escaped down Dalmarnock Road. One of them was riding a bicycle while another was said to have been wearing a red T-shirt. There were no further descriptions of those involved.
Det Con Mari Dickson said officers would continue to carry out door-to-door inquiries and check CCTV, and appealed for any witnesses to come forward.
She added: "Both men suffered serious stab wounds and I would appeal to anyone who has any information or who knows who was involved to contact police.
"Although the incident happened in the early hours of the morning, Main Street and Dalmarnock Road can often be busy with vehicular traffic and it may be that people were making their way home from a night out by taxi or car or other form of transport."
In a separate incident, police said a 22-year-old man suffered slash wounds in an altercation in Shawbridge Street, in the Pollokshaws area of the city, at 2150 BST on Friday night.
The injured man was taken by ambulance to Glasgow Victoria Infirmary where hospital staff described his condition as stable.