Newspaper review: Search for insights on shootings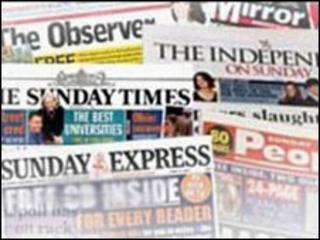 The search goes on for fresh insights into what drove Derrick Bird on his murderous rampage through Cumbria.
The Sunday Telegraph and Sunday Mirror both have an interview with the man who spent the previous evening with him.
Neil Jacques, a friend and neighbour, says they watched a violent film on television featuring multiple killings.
The News of the World looks for clues in a photo of Bird's kitchen where, it says, he ate his last meal amid the grimy clutter of a loner's life.
Scrap heap
According to the Observer, Justice Secretary Kenneth Clarke is considering giving more legal protection to householders who confront burglars.
The Sunday Telegraph, meanwhile, talks about plans for a "bonfire of meddling legislation".
Extra charges for putting out household rubbish, known as "pay as you throw", are apparently heading for the scrap heap.
The News of the World calls it a rare victory for common sense.
Spending axe
Prime Minister David Cameron and his deputy Nick Clegg both give their take on the economy in major interviews.
The Times says Mr Cameron has signalled that Britain faces years of "pain" as the spending axe falls.
The prime minister warned that the economy is in a far worse state than previously thought, the paper adds.
The Observer says Mr Clegg has staked his political reputation on a pledge there will be no return to the savage cuts of the 1980s under the coalition.
Legendary album
A slice of rock 'n' roll history is up for sale, reports the Independent on Sunday.
It reveals that Sir Richard Branson's former mansion in Oxfordshire, which was Britain's first residential recording studio, is on the market.
In its 70s heyday, The Manor was graced by the likes of the Bonzo Dog Doo-Dah Band and Tangerine Dream.
But it will forever be associated with the hugely successful album, Tubular Bells, by Mike Oldfield.