Newspaper review: Cameron's cuts speech previewed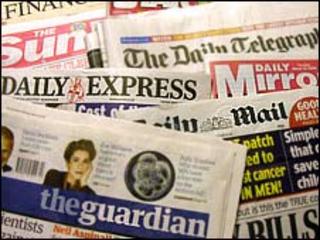 Government action to tackle the budget deficit is explored in the papers.
"No one will escape the cuts" is the headline in the Times.
It says David Cameron's is to explain in a speech why the British way of life will have to change because of the biggest cuts since World War II.
The Guardian says he will talk of having to take "momentous decisions".
The Daily Telegraph has more details about George Osborne's plans to emulate Canada, which brought a massive budget deficit under control by slashing spending by 20% over three years.
Tank criticism
The Independent says British troops are to be issued with a new infantry combat rifle for the first time in 20 years.
The Sharpshooter has bigger bullets and is intended to allow troops to engage insurgent forces at a greater distance.
The Daily Telegraph reports that the Army's most decorated serving soldier has criticised the use of 40-year-old Scimitar light tanks in Afghanistan.
Warrant Officer Mick Flynn said the gun often jammed and the vehicle broke down, leaving troops vulnerable.
Relationship ended
The Guardian has front page coverage of the memorial services in Cumbria.
The paper reflects that, on the day of the shootings, it was the loveliest weather for the most awful of days. But on Sunday the weather reflected the prevailing mood. All was grey.
The Sun and Daily Mirror both report that Derrick Bird had been sending substantial sums of money to his girlfriend in Thailand.
But he had recently received a text from her ending the relationship.
Cup concerns
The Daily Mail and Daily Express, like most of the papers, report security fears at the World Cup in South Africa after a crowd stampede.
Nigeria and North Korea were playing a friendly match in Johannesburg.
Dozens of people were hurt during what the Express calls the "terrifying" storming of a stadium.
The Mail says England security officials held an emergency meeting with World Cup organisers to discuss the problem.