Israel deportee calls on US and Ireland for support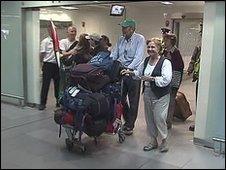 A NI peace campaigner deported from Israel after trying to deliver aid to Gaza has called for the US and Irish governments' support.
Nobel peace prize winner Mairead Corrigan Maguire was one of five Irish activists who arrived in Dublin after being deported from Tel Aviv on Monday.
Their ship, the Rachel Corrie, was the last vessel in a flotilla which tried to break the Israeli blockade of Gaza.
She said solving the Palestinian issue was key to solving the Middle East.
She urged the Irish government and the US President to encourage dialogue.
And she promised to step up efforts to bring aid to Palestinians after the ship she was on was impounded.
Speaking at a press conference in Dublin on Monday, she said talks between Israelis and Palestinians could resolve and end the siege of Gaza, but both sides needed international help.
"We thank the Irish government and encourage them to play their role in trying to see that this situation in Israel and Palestine is moved into a peace process," she said.
"We appeal to President Obama to do what he can to insist that the siege on land, sea and air is lifted and that the Israelis enter into dialogue in what is a serious issue that can be solved."
Mrs Corrigan Maguire said Palestinians were facing "a collective punishment" and "a slow genocide".
She said solving the Palestinian issue was "key to solving the Middle East".
The five Irish nationals were flown from Tel Aviv on Sunday after waiving their right to appeal.
Speaking shortly after their arrival at Dublin airport, Mrs Corrigan Maguire said: "Our whole purpose was to break the siege of Gaza and bring humanitarian aid.
"When we were kidnapped by the Israeli navy and taken to Ashdod we were very sad, for the people that have lost their lives and the people of Gaza.
"We had lifted their hopes and then they were dashed, but we will be back," she said.
In a separate development, it was reported on Monday that Israel's navy had shot and killed four Palestinians wearing diving gear off the Gaza coast.
The Israeli military said it believed those on board were planning a terrorist attack.
Hamas officials in Gaza said four bodies had been recovered and two people were missing.
It comes a week after nine pro-Palestinian activists died in an Israeli raid on a Turkish ship - the Mavi Marmara - trying to break Israel's blockade of Gaza.
Six Malaysians and a Cuban have already left Israel through the West Bank into Jordan.
The Cyprus-based Free Gaza Movement, which organised the attempts to break Israel's blockade on Gaza, vowed that further aid shipments would be sent.
The 1,200-tonne cargo ship was boarded about 16 nautical miles (30km) off the Israeli coast.
The ship was carrying hundreds of tonnes of aid, including wheelchairs, medical supplies and cement.
Israel says it will check the shipment and transfer all of the aid it deems acceptable into the Gaza Strip.
Foreign ministry spokesman Mark Regev told the BBC that Israel had had an agreement with the Irish Republic for the Rachel Corrie to go to the Israeli port of Ashdod to be checked - and from there the aid and the activists on board could have proceeded to Gaza.
Israel stepped up its blockade of Gaza in 2007, when the Islamist Hamas movement took control of the territory, and says its policies will not change while Hamas remains in power.
Defending the Israeli blockade, Mr Regev said there was no humanitarian crisis in Gaza - and accused Hamas of blocking the supply of aid into the territory.
Related Internet Links
The BBC is not responsible for the content of external sites.