Exotic frogs reared in redbush tea in Gloucestershire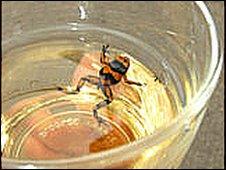 Eleven poison dart frogs have been raised by UK experts in pint glasses of redbush tea.
Amphibian keepers at the Slimbridge Wetland Centre, Gloucestershire, reared the amphibians from tadpoles in the brew to help keep them disease-free.
The caffeine-free African tea contains fungus-beating antioxidants, according to amphibian keeper Jay Redmond.
Mr Redmond said: "Every morning just before I made my cup of tea I made sure the tadpoles have had theirs too!"
The yellow-banded and green-banded poison dart frog tadpoles were raised in pint glasses, topped up with the shop-bought redbush tea, which is sometimes called rooibos.
Some species of poison dart frogs, native to South America and among the most toxic on earth, are critically endangered.
A combination of deforestation, introduced species and a fungus which kills amphibians has damaged population numbers.
Mr Redmond added: "It is a bit of advice that people know in the industry that to keep them disease-free they should swim in redbush tea for the first few weeks of life."
Related Internet Links
The BBC is not responsible for the content of external sites.