US intelligence analyst arrested over security leaks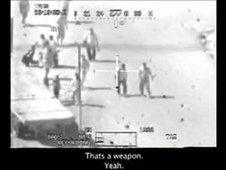 A US military analyst, Bradley Manning, has been arrested on suspicion of leaking classified combat video and documents to a whistle-blower website.
Specialist Manning, 22, was detained during a tour of duty in Iraq, and is being held in Kuwait pending further investigations.
The WikiLeaks website posted a video which it says shows the US military shooting civilians in Baghdad in 2007.
It has not confirmed Spc Manning as its source for the helicopter footage.
News of his arrest first broke on the Wired.com website.
A former hacker said he had turned the analyst in out of concern for US national security.
In a statement, the US army in Iraq said Spc Manning was "placed in pre-trial confinement for allegedly releasing classified information".
WikiLeaks' organisers said they were given the footage, which they said came from cameras on US Apache helicopters.
They said they decrypted it, but would not reveal who gave it to them.
The WikiLeaks site campaigns for freedom of information and posts leaked documents online.
The ex-hacker, Adrian Lamo, said Spc Manning "boasted" to him about passing the helicopter video to WikiLeaks.
Mr Lamo said Spc Manning claimed to have leaked video footage showing an air strike in Afghanistan in July 2009. The local authorities said nearly 100 people were killed in the attack at Garani
Spc Manning also said he had passed on 260,000 classified US diplomatic cables.
However, WikiLeaks has said it was not sent the diplomatic cables.
"A lot of people have labelled me a snitch," Mr Lamo told BBC News. "I guess I deserve that on this one but not as a generality."
The video from Iraq shows a US helicopter strike in July 2007 in which about 12 people died.
On the transmission, US soldiers on the ground can be heard establishing that there are two child casualties and agreeing to take them to hospital.
The Pentagon has not disputed the authenticity of the video but has been working to trace the source.
At the time, the US military said the helicopters were engaged in combat operations against a hostile force.
Related Internet Links
The BBC is not responsible for the content of external sites.