80 IVF foetuses are aborted a year, figures show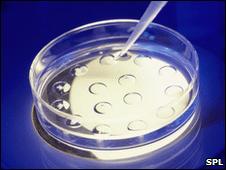 About one percent of IVF pregnancies are aborted every year, figures collected by the fertility watchdog show.
The exact reasons for the terminations - which amount to an average of about 80 a year - are unclear, but will include medical problems with the foetus as well as social grounds, such as a relationship breakdown.
"Selective reduction" abortions, when one foetus is removed to improve the survival chances of another in a multiple pregnancy, are also included.
The figures from the Human Fertilisation and Embryology Authority, which regulates IVF clinics in the UK, were obtained as part of a Freedom of Information request.
<b>Public and private</b>
They show that the proportion of foetuses aborted remained stable between 1991 and 2008, the last year for which data was available. In that year there were 65 terminations in 6,723 pregnancies.
The 18-34 age group saw the highest number of abortions, with 23 terminations, but they also had significantly more pregnancies than older IVF patients.
There was no information on the number of abortions of IVF pregnancies which had originally been funded by the NHS. Public provision of IVF is patchy, and many couples pay thousands of pounds to undergo fertility procedures privately.
Professor Bill Ledger, a member of the HFEA said: "I had no idea that there were so many post-IVF abortions and each one is a tragedy", while former conservative MP Ann Widdecombe said some were treating babies like "designer goods".
But Susan Seenan of the Infertility Network UK advised caution.
"Anyone who has undergone IVF knows what a long and difficult experience it can be. To make the decision to then terminate that pregnancy cannot be one that anyone takes lightly. I would imagine there are some pretty good reasons."
Laura Riley, a spokesperson for the British Pregnancy Advisory Service, said: "Women and couples who have had donor insemination or IVF to become pregnant are unfortunately no more immune from the harsh vagaries of life than others who are lucky enough to be able to conceive naturally.
"Any woman can experience overwhelming life difficulties, such as intense relationship pressures or the diagnosis of a serious or lethal fetal medical problem. These may mean that she feels unable to continue with the pregnancy."
Related Internet Links
The BBC is not responsible for the content of external sites.