Teenager jailed for life for 'merciless' Croydon murder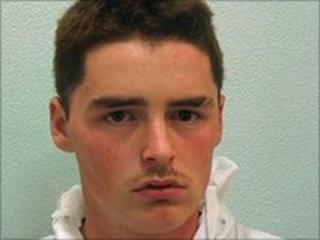 A 16-year-old boy has been convicted and jailed for life at the Old Bailey for the "merciless and ferocious" murder of a man in south London.
Jason Terry, then 15, broke into Tony Fernandes's flat in Croydon last July with his uncle and another man.
Terry, of Croydon, his uncle Paul Maddix and Darren Liston beat and stabbed the senior lab technician 15 times when he tried to throw them out.
Maddix and Liston were also convicted of murder. All three denied the charge.
Terry, of Limes Road, was ordered to serve 13 years, Maddix, 44, of no fixed address, was jailed for 16 years and Liston, 27, of Derby Road, Croydon, was ordered to serve a minimum of 18 years.
Judge Stephen Kramer lifted an order preventing the identification of Terry because of his age.
'Extreme violence'
Terry and Maddix had taken cannabis and all three had been drinking before they broke into the house.
Liston had known Mr Fernandes, 46, who worked at Epsom College, for about two weeks, the court heard.
When the victim tried to throw them out they attacked him with up to six of 17 knives found at the scene.
Judge Kramer said: "That led to a merciless and ferocious attack on him.
"This was an intense episode of extreme violence."
The force of the stabbing were such that one of the knives broke in two and another was bent, the jury heard.
Terry's thumbprint was found on the handle of one knife and his DNA was found on another.
Mark Heywood QC, prosecuting, said Mr Fernandes was stabbed "repeatedly and ruthlessly" and was beaten about the head.
In a victim impact statement, Mr Fernandes's brother Derek said the divorced victim was a "kind and gentle soul".
"Anthony has gone from our lives because of a brutal, vicious, cruel and savage attack," he added.