Recycling rewards on offer in Windsor and Maidenhead
By Dhruti Shah
BBC News, Windsor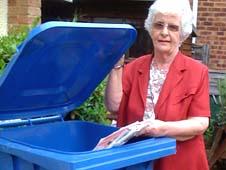 The government has ruled out plans to charge depending on how much waste people throw away and instead, following the success of a pilot scheme in the borough of Windsor and Maidenhead, wants an increase in schemes that reward recycling.
Every day Barbara Mitch, 77, settles down to complete the crossword in her daily paper before placing the sheets in her recycling bin.
Then, once a week, she rolls the filled bright blue bin through the side gate, past her potted plants, to the front of her home in Clifton Rise in suburban Windsor, ready for it to be collected early the next day.
In return, Windsor and Maidenhead Council reward her with points depending on how much her blue bin weighs that week, which she can then exchange for vouchers to use at local businesses and national stores.
The 240-litre containers are equipped with a chip that identifies the address the bin belongs to and awards the home with points. These are then deposited into an account administered by the firm Recycle Bank.
Mrs Mitch says the blue wheelie bin used for the task has helped her considerably.
She said: "When the papers piled up, it was far more difficult before. I had to take the heavy boxes we had before out by myself and I never knew if I had picked them up properly. It's far easier for me now.
"And I don't yet know how many points I have as I haven't checked my balance online but I can't wait to spend them."
On Monday, the council invited 60,000 households in the area to take part in the scheme.
The launch event in Windsor town centre was attended by Conservative Communities Secretary Eric Pickles and Environment Secretary Caroline Spelman.
Councillor Liam Maxwell said that the incentives seem to have worked, and the the success of the 6,000 household pilot scheme last year had seen a 74% take-up rate with more than six million points amassed so far.
Households can earn an average of £135 worth of rewards per year, he said.
Both cabinet ministers said the new coalition government aimed to be the "greenest" government ever and that it favoured incentives as a means to encourage people to recycle.
Mrs Spelman said: "The carrot is always better than the stick."
The UK must reduce the amount of waste sent to landfill by nearly two-thirds by 2020 to meet EU targets, but Mr Pickles ruled out the possibility of any "pay as you go charges" and said it was time "to bury bin tax forever".
The former Labour government had, at one point, drawn up plans to let English councils pilot schemes which would charge or reward people according to the waste thrown out - but this was never fully implemented.
Mr Pickles said reward schemes which treated the public "with respect" rather than "the enemy" and helped the local economy were "exactly the kind of scheme we would like to see rolled out nationally".
A similar pilot scheme is already in place in Halton in Cheshire.
Mrs Mitch said she was happy with her bin, and the microchip in it barely bothered her as the council had assured her that no personal information was kept on the chip.
Mr Pickles said: "It works just like a supermarket loyalty card and is entirely voluntary so if people don't want the chip in their bin, they're not forced to."
But Alex Deane, the director of privacy campaign group Big Brother Watch, said: "The environment and 'user rewards' are being used as twin stalking horses for eventual pay-as-you-throw schemes by the back door."
Shadow environment secretary Hilary Benn said the ministers had kept changing their minds about their plans but it was up to the councils to decide how to reduce waste.
The council, which pays firm RecycleBank to administer the scheme, said that there had been no additional cost to residents. It said the scheme was a worthwhile investment as it saved money that would have been spent on landfill tax.
But charity Waste Watch said it had concerns and did not want to see those who already made an effort to cut down on their waste and recycle penalised by the incentive scheme.
BBC website user Jonathan Kelk agreed and said the Windsor solution was still not a fair one.
"You get rewarded for creating rubbish (albeit recyclable rubbish), whereas those that don't recycle much because they don't produce much rubbish get penalised (even if it is through higher taxes to pay for other people's rewards).
"I guess it is as close to a good system as we can practically have at the moment though," he said.
Related Internet Links
The BBC is not responsible for the content of external sites.