Driver of derailed train saw 'huge rocks on track'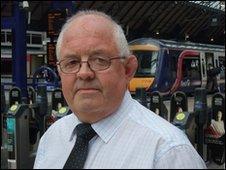 The driver of a train that derailed and burst briefly into flames in Argyll has told how he held passengers' hands and helped lead them to safety.
The Glasgow to Oban service left the tracks near the Falls of Cruachan power station by Loch Awe shortly before 2100 BST on Sunday.
All 60 passengers were rescued, with eight people suffering minor injuries.
Driver Willie Dickson said he hit the emergency brakes on seeing "two huge rocks on the track".
The 60-year-old from Grangemouth, who has been a train driver since 1992 and has worked on the railways for 30 years, also told how it "was a real team effort" to free passengers from the overturned train.
Both carriages caught fire and came to rest over a 15-metre embankment.
Passengers spoke of seeing "balls of flames".
Mr Dickson, who suffered bruising when the train derailed, said: "I stayed at the controls until the train came to rest.
"I then entered the front carriage and tried to calm passengers down before taking people by the hand and leading them off the train."
He added: "My colleagues were brilliant - as were some passengers who helped others on board. It was a real team effort."
Hospitality host, Drew Hinde, 38, from Glasgow, said he had used his catering trolley to steady himself following the impact.
Mr Hinde, who has worked for ScotRail for almost three years, said: "My initial thought was that it was surreal but we immediately helped all passengers leave the train."
Conductor Angus MacColl, 54, of Oban, said he was in the rear coach when the train came to a halt.
He explained: "I shouted 'calm down, calm down' and it worked. I got people out the back before going into the front carriage where passengers were also being taken off the train.
"Willie and Drew were brilliant - as were passengers who helped out."
Steve Montgomery, ScotRail's managing director, paid tribute to the train crew saying: "This incident could have been more serious but for their actions. They did a tremendous job in difficult circumstances are a credit to the company."
An investigation into the cause of the derailment is under way.
It is thought the boulders on the track may have been the result of a landslide in the area.
Related Internet Links
The BBC is not responsible for the content of external sites.