Airlines look to overcome industry turbulence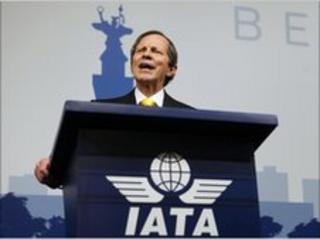 Crisis, cash, consolidation and ash. These are the issues which are taxing top executives from across the aviation industry, as they meet in Berlin this week.
The annual general meeting of the International Air Transport Association (IATA) is taking place against a backdrop of enduring economic gloom and growing frustration with the way the industry is regulated.
Over the past two years, airlines have had to cope with an oil price spike, a big drop in passenger numbers due to the global downturn, and the volcanic ash cloud which recently paralysed air traffic in Europe.
Yet despite all of this, the atmosphere at this year's IATA summit is far from downbeat. Instead, there is an air of cautious optimism.
It is clear from IATA's latest figures that a recovery is under way. Globally, air traffic is back at the levels it reached before the recession began to bite. And the industry is making money again.
"The good news is we've returned to profitability", says IATA's director general Giovanni Bisignani.
"There has been $2.5bn dollars of profit for this year. After a loss of revenues of $80bn dollars last year, this is a good improvement."
Fear
But the recovery remains tentative, and profit margins for airlines are still tight.
And the European industry, Mr Bisignani says, is still in deep trouble.
There is real fear that if the European sovereign debt crisis triggers off a new recession, airlines could be left badly exposed once again.
Add to that enduring concerns about the effect of volatile oil prices and currency movements, and it is easy to see why many airlines are seeking safety in numbers.
Consolidation is the buzzword being heard in every corner at this year's summit. National laws in many countries still make it difficult for airlines to merge fully. So increasingly, carriers are doing the next best thing - forging alliances.
On Monday, the Indian carrier Kingfisher Airlines was formally invited to become the 13th member of Oneworld, the global alliance dominated by British Airways and American Airlines.
It is a marriage of convenience which Kingfisher chairman and chief executive Vijay Mallya believes will reap substantial rewards.
"By joining Oneworld, we will be able to offer our guests travel to more than 800 destinations in 150 countries", he says.
"Joining Oneworld will clearly strengthen our competitive position".
'Keep eye on ball'
This is not just PR speak. Increasingly the big alliances are acting like de facto global airlines. By working together their members can cut costs and gain access to other carriers' passengers.
In an industry otherwise characterised by cut throat competition, it offers a level of security which individual carriers could not otherwise aspire to. If you cannot beat them, join them, or so the saying goes.
Gerard Arpey, the laconic head of American Airlines, is convinced that these "global airlines" are the future.
"There was a time when hundreds of airlines would compete with one another on an individual level," he says.
"In future there will be a much smaller number of global airlines or alliances, all in intense competition with one another. That will offer excellent choice for consumers, and competition will keep prices down"
Not everyone agrees with that view.
Steve Ridgway, the chief executive of Virgin Atlantic, is concerned that the links between Brtitish Airways and American Airlines, at the heart of Oneworld, go too far.
He says that while alliances could be of great benefit to airlines, they should not be allowed to become too dominant.
"Just because we've have had a steep recession, that's no reason for the competition authorities to take their eye off the ball", he says.
Ash questions
But talk of consolidation here at IATA has been more than matched by expressions of exasperation and frustration.
This is directed at Europe's civil aviation authorities, who shut down the continent's airspace for several days in April, because of fears that aircraft could be damaged by a cloud of volcanic ash.
Many within the industry believe that the stoppage - which cost them a collective $2bn, was unnecessary. They feel that too little action was taken to check whether computer models of the ash cloud were accurate, and whether aircraft really were at risk.
"It was a national embarrassment" says Giovanni Bisignani.
"It took them four days just to organise a conference call. They didn't know what was going on."
Wolfgang Mayrhuber, the chief executive of Lufthansa agrees that regulators let the airlines down.
"There are currently 14 volcanoes around the world that are erupting," he says.
"This one caused an airspace closure because we were relying simply on a mathematical model. But it took too long to check whether this model matched the reality.
"What we missed in Europe was a single approach."
On Tuesday, IATA holds a debate on the "government - industry partnership".
Judging by many of the comments heard here, that partnership currently needs a lot of work.
Nevertheless, it does not change the fact that the industry as a whole does seem to be growing in confidence.
And more of the same can be expected on Tuesday, when the great and the good of the aerospace industry gather at Schonefeld airport, on the outskirts of the city, for the 2010 Berlin Airshow.
Because if airline executives are starting to feel good again, they might just be in the mood for ordering a few shiny new planes.