Cameron compared to King Lear over spending cuts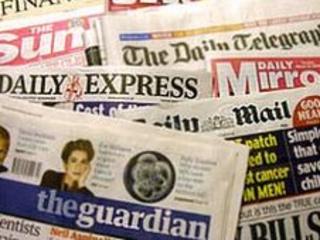 A day after David Cameron said public sector cuts would affect "our whole way of life", the papers assess his words.
"David Cameron will do such things; what they are he knows not, but they shall be the terrors of the earth," the Financial Times says, echoing Shakespeare's King Lear.
The Daily Express thinks "the long-suffering middle classes" will be hit once again by the austerity measures.
But the Daily Mirror thinks Mr Cameron is "exaggerating" the deficit crisis so people will be "terrified into accepting savage cuts".
'Predators'
The apparent attack by a fox on two baby girls in their beds features on several of Tuesday's front pages.
"Fantastic? No, Mr Fox is a vicious pest," thinks Rory Knight-Bruce, writing in the Daily Mail.
"Too many urban dwellers adopt a soft-hearted attitude to these predators", he says.
But expert Jon Bryant tells the Sun that "foxes are among the most amenable, least aggressive mammals you could share and environment with".
'Casual and callous'
The Independent says sentences handed to eight people over the Bhopal gas leak in India in 1984 are "derisory".
"Many of the victims live wretched existences in slums", says the Daily Telegraph, and have waited more than 25 years for justice.
But the Times says that while the slow court system "should be one target for criticism", the "greatest censure" should fall on the Indian government.
It has a "casual, callous and confused approach to corporate liability", it adds.
'Don't look!'
As the England football team prepare for their first World Cup match, the Guardian says players been offered some advice on penalty-taking by scientists.
The paper says the key is if you want to score, "don't look at the goalie" - doing so leads players to aim their shot right where the keeper can get it.
But the Independent has identified a flaw in the research.
It says it forgot to look at the phenomenon of English footballers sending their kicks over the crossbar.