Head of UN anti-impunity panel in Guatemala resigns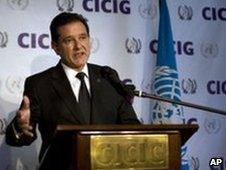 The head of a UN-backed commission set up to combat impunity in Guatemala has resigned, saying he can do no more.
Carlos Castresana of the International Commission against Impunity (CICIG) said the government had not kept its promise to reform the justice system.
Guatemala has a long history of impunity, with few cases either coming to trial or resulting in convictions.
But since January 2008, CICIG has carried out investigations leading to the conviction of dozens of officials.
Hundreds of police officers with links to illegal groups have also been sacked.
Mr Castresana, a Spanish jurist who headed a team of Guatemalan and international investigators, had regularly voiced concern that Guatemala's weak laws hindered CICIG's work.
He also complained that the country's Congress had failed to pass anti-impunity laws.
On Monday, Mr Castresana called a news conference in Guatemala City to announce his resignation.
"Nothing that was promised is being done. On a personal level, I feel I cannot do anything more for Guatemala," he said.
Mr Castresana said another reason for his resignation was the appointment of Conrado Reyes as attorney general.
Mr Castresana accused Mr Reyes of having links with illicit organisations and urged President Alvaro Colom to fire him.
The attorney general denied Mr Castresana's claims.
"I do not have, nor have I ever had, ties to the people and organisations he claims," Mr Reyes said.
Reacting to Mr Castresana's resignation, President Colom reiterated his government's support for CICIG.
"Sometimes we are limited, legally, or in respect of governance or financing in how we can respond to their requests," Mr Colom said, referring to the various demands CICIG had made.
A statement from UN Secretary General Ban Ki-moon's office said a replacement for Mr Castresana would be appointed as soon as possible.
"The success of this partnership requires that the international commitment be matched by an equal commitment on the part of the national authorities," the statement said.
CICIG's mandate runs until September 2011.
Related Internet Links
The BBC is not responsible for the content of external sites.