No cold feet... actor takes on Chancellor role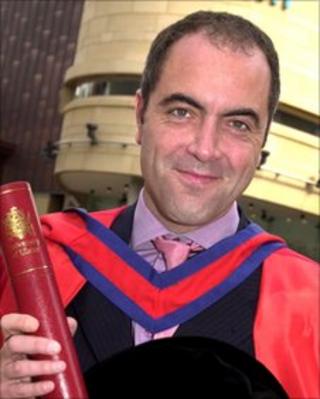 He did not get cold feet.
Northern Ireland actor James Nesbitt who made his name from the 1990s TV series of that name - and a particular shot posing "naked with a rose between buttocks" - returned to his roots on Tuesday to become the new chancellor for the University of Ulster.
From university drop-out to top dog at the same university in Coleraine, life has had its twists and turns.
On Tuesday, Nesbitt was formally installed as chancellor.
The ceremony took place at the Riverside Theatre, Coleraine - a venue that inspired the budding actor.
Nesbitt was born in Broughshane near Ballymena, County Antrim. He thought about following in his father's footsteps and having a career in education.
So he began a degree in French at the University of Ulster, Coleraine, but left after a year to pursue his real love, acting.
In London, he went to the Central School of Speech and Drama and after graduating, won a series of roles culminating in his film breakthrough as talent agent Fintan O'Donnell in Hear My Song.
But the role of Adam in the romantic TV comedy Cold Feet made his name.
The scene when he serenades his girlfriend Rachel from the street wearing nothing but a rose between his buttocks was one that went down in TV history.
But Nesbitt has moved easily from comedy to more serious roles, playing alongside fellow County Antrim actor Liam Neeson in Five Minutes of Heaven and starring in the drama, Bloody Sunday.
The actor said he was deeply honoured to play his new role as university chancellor.
Joining him at the ceremony on Tuesday were four new honorary graduates - actor Conleth Hill, and business leaders Tony Hopkins, Peter Fitzgerald and Bro McFerran.
Vice-chancellor Professor Richard Barnett said Nesbitt was a great role model for students.
"When it came for us to identify a new chancellor, James Nesbitt was the obvious and unanimous choice," he said.
"He is from Northern Ireland, he has excelled in his chosen career, and he has never forgotten his roots.
"Also, his work as a UK Ambassador for Unicef and the charities with which he chooses to become involved demonstrate his clear commitment to helping the least advantaged members of our society, something that through our widening access and international development initiatives this university values most highly."