World Cup boost for power company Aggreko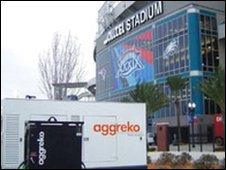 Generating the power that will bring the World Cup to three billion people worldwide has helped the results of Scottish energy company Aggreko.
The Glasgow-based firm is providing temporary power and air conditioning at all 10 stadium venues in South Africa.
It is putting in place 30 megawatts of generating capacity to ensure the lights stay on, and the broadcasting signal stays live.
The contract has helped Aggreko's figures, according to a trading update.
The £30m deal is a shared contract with Shanduka, a joint venture partner in South Africa
Aggreko has announced a big lift in investment in new equipment, much of which is manufactured at its Dumbarton plant.
The company this year also provided temporary power to the Winter Olympics in Vancouver and Whistler, just as it previously did for the Beijing Olympics.
The FIFA World Cup in South Africa is the biggest sports event Aggreko has handled, and is helping hold up challenging trading conditions in its short-term power division.
Without the World Cup and Winter Olympics, that division has operated at similar levels to last year.
Rates have been "weak", but investors are being told that they have begun to show some modest improvement.
The larger part of Aggreko's business is in longer-term provision of power generation in countries which suffer power shortages.
There has been churn of some countries' power companies reducing their dependence on Aggreko generators, while others have picked up.
In Kenya, the end of a four-year drought has brought the country's hydro power back on stream, meaning Aggreko has lost business there. Yemen has also reduced its demand for the temporary generators.
New contracts, however, are seeing the International Power Projects division pick up business, with revenues up by 8% in the first half of this year.
There is a forecast of 18% more power generation in the third quarter, when compared with last year.
Much of the new work is coming from Asia and Central and South America. The first half of this year has seen major orders from Bangladesh and Indonesia.
Investment in new equipment is to be £265m this year, £45m up on previous plans. Half of it is to go into a new type of low-emissions generators for the North American market
Related Internet Links
The BBC is not responsible for the content of external sites.