Antidepressants 'twice more common in Northern Ireland'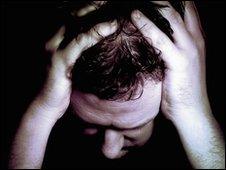 Antidepressants are prescribed twice as much in Northern Ireland as in England, according to the Royal College of Psychiatrists (RCP).
The Department of Health announced on Monday it would invest an additional £1m each year in psychological therapies.
However, the RCP says this falls short of the recommended sum by more than £2m.
One in four people in Northern Ireland is affected by some form of mental illness at some point in their lives, according to the Bamford review of mental health provision.
RCP policy officer Dr Maria O'Kane says the bill for antidepressant drugs in Northern Ireland last year was £18m - more than twice the per capita spend in England.
"There's a very strong correlation between the prevalence of the prescriptions of antidepressants and the absence of psychological treatments," she says.
Cognitive behavioural therapy (CBT) aims to help patients to pinpoint - and then change - thoughts and actions that cause emotional problems.
Advocates of such talking therapies say its long-term benefits can be greater than relying solely on drugs.
Doctors use formal scoring systems to diagnose depression, and Londonderry GP Dr Tom Black says a thorough examination of patients' medical history is carried out before antidepressants are prescribed.
Dr Black, who is based in the Bogside area, says he believes levels of depression were highest in more deprived areas.
"Modern life is difficult - I think people live very conflicted lives - and our percentage of prescribing drugs for depression is probably about 50% to 60% above average," he says.
Guidelines produced by the National Institute for Clinical Excellence drug assessment body say antidepressants should not be routinely used to treat mild depression because "the risk-benefit ratio is poor".
Dr Black says that in cases of mild depression he would employ other strategies such as referring patients for therapy, but for more serious cases drugs can be greatly beneficial.
"Prozac is a wonderful drug which works very well for many people in getting them back to a normal life," he says.
"It's self-evident that there would not be enough talking therapies within Northern Ireland to deal with these people so we do have to use antidepressants as the mainstay of our treatment for depression."
Dr Nicola Rooney, a clinical psychologist with the Belfast Health Trust, says they could not be sure there was an exact correlation between the higher prescriptions of antidepressants and the lack of therapists.
"I think as well, sometimes, we the public come to expect prescriptions when we go to our GP, and are a bit more reluctant to take up other methods.
"As Bamford pointed out, we are coming out of a legacy of 30 years or more of violence and we have more people presenting psychological difficulties than England.
"We have been underfunded in terms of therapists and services over the years - this is one small step in addressing that, and we in the psychology division welcome it."
Related Internet Links
The BBC is not responsible for the content of external sites.