Philippine poll winner confirmed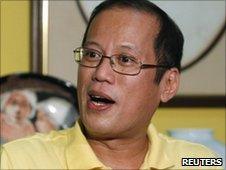 Benigno Aquino has been declared the winner of the Philippine presidential election, after the vote count from May's poll was finally concluded.
Mr Aquino, commonly known as Noynoy, won a decisive victory campaigning for an end to corruption and poverty.
He is set to be inaugurated as president at the end of this month.
The result was never really in doubt - an unofficial count within hours of the poll showed that Mr Aquino had won by a landslide.
But the votes had to be officially counted by parliament - a time-consuming procedure, subject to frequent delays.
Nearly a month after the election, the final tally is now in - Mr Aquino secured more than 15 million votes, five-and-a-half million more than his nearest rival, former president Joseph Estrada.
In a country where elections are often followed by claims of cheating and vote rigging, with no obvious winner, this was a clear, decisive victory.
But not everything has gone well for Mr Aquino.
His choice for vice president, Mar Roxas, lost out in a close battle with Mr Estrada's running mate Jejomar Binay, the major of Manila's business district.
And Mr Aquino will also face some tough challengers in the Philippine Congress, including the woman he is replacing as president, Gloria Arroyo.