Two tonnes of cocaine seized in The Gambia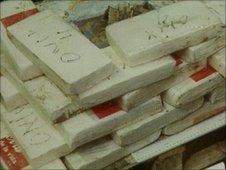 At least two tonnes of cocaine with a street value estimated at $1bn has been seized in The Gambia, bound for Europe.
In addition to the huge haul of drugs, the Gambian authorities have arrested a dozen suspected traffickers, and seized large quantities of cash and arms.
Gambian investigators made the first arrests then called in British agents to gather forensic evidence.
West Africa has become a major transit hub for trafficking Latin American drugs to markets in Europe.
Drugs cartels are taking advantage of the region's poverty and weak security and judicial systems.
Agents from the UK's Serious Organised Crime Agency - the rough equivalent of the US FBI - helped discover the haul of highly concentrated cocaine behind a false wall in a warehouse basement an hour's drive from the Gambian capital, Banjul.
Numerous revealing computer records were also found.
One investigator closely involved told the BBC: "We're excited about this one - we've got all the elements here."
The BBC's Mark Doyle in Banjul says some of the Gambian officers involved in the bust are clearly pleased, if saying nothing in public for now.
Related Internet Links
The BBC is not responsible for the content of external sites.