Newspapers hail retiring Tesco chief Sir Terry Leahy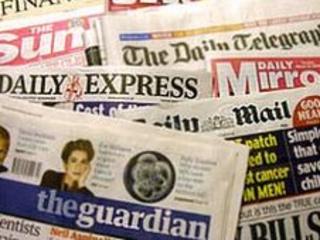 Wednesday's papers heap praise on Tesco boss Sir Terry Leahy who has announced he is to retire next March.
An effusive Daily Mail salutes "the outstanding businessman of our age".
"Sir Terry, low-key yet formidable. His legacy of tenacious transformation will be long-lasting," says the Financial Times.
"Every little he did helped us," thinks the Sun. It goes on: "The PM should phone Mr Tesco. There's plenty of shelf life left in this brilliant boss."
'Nasty talk'
"Osborne's bombshell" - depicted as a big black missile - is the striking image on the front of the Independent.
The paper says the chancellor's looming cuts could hit "universal handouts such as child benefit", as well as support "for the jobless, sick and disabled".
The Daily Telegraph leads on the same story, but its economics editor Edmund Conway thinks the cuts "message has not sunk in" yet.
"A little bit more nasty talk may yet be in order", because so few people really grasp the scale of the crisis.
'Eyes shut'
Plans to test the English language skills of all migrants seeking to marry a Briton are "very welcome", says the Daily Express.
It is "a long overdue idea that should begin to repair some of the damage done to race relations by the last Labour government", the paper adds.
The Times claims UK military chiefs "blundered" into Afghanistan with "eyes shut and fingers crossed".
The paper accuses British top brass of signing off "a deeply flawed plan".
Fox fears
The Guardian has the latest sad twist in the story of a gay couple sentenced to 14 years in prison in Malawi.
Despite being pardoned, they have split up. One of the men, Steven Monjeza, says: "I want to live a normal life."
The Daily Mirror, meanwhile, leads again on the apparent mauling of two baby girls by a fox.
"We must remember this is an extremely unusual case which doesn't mean we're all suddenly at risk of attack - we're not," the paper stresses.