Older breast cancer patients 'miss out' on treatment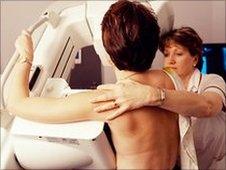 A breast cancer charity has said that older women do not receive the same level of treatment as younger patients.
About 4,000 women in Scotland are diagnosed with breast cancer each year with the disease claiming more than 1,000 lives annually.
Breakthrough Breast Cancer claimed women over 80 were 40 times less likely to have surgery and less likely to receive radiotherapy or chemotherapy.
The Scottish government insisted unequal treatment was not the case.
A spokeswoman said: "Every cancer patient in Scotland is offered the full range of appropriate treatment options regardless of age.
"Decisions about the most appropriate treatment for each patient are made following a multi-disciplinary team meeting and always in discussion with patients and carers."
But Breakthrough Breast Cancer's Scottish director Audrey Birt said that despite advances in treatment there was not equal treatment for all.
She added: "With over 4,000 women being diagnosed and around 1,000 women dying of breast cancer each year in Scotland, it is wrong that all women are not receiving equal access to the treatments they need, whatever their age."
To try to highlight the issue, the charity is launching the Every Chance campaign, demanding that all patients are offered treatment and care that will benefit them, regardless of their age.
Ms Birt said the campaign "highlights that, in breast cancer treatment where risk of disease increases with age, older patients are not receiving the same treatments that younger women would receive".
She said: "We are calling on the Scottish government to use its focus on quality of care to ensure older women with breast cancer are treated based on clinical need, not age."
Professor Mike Dixon, the clinical lead at the Breakthrough Cancer research unit at Western General Hospital in Edinburgh, backed the campaign, saying there were "justifiable concerns" about the way older women were diagnosed and treated in some parts of Scotland.
He added: "We need to address this inequality as a priority by ensuring that access to diagnosis and treatment is improved across Scotland whilst not losing sight of the importance of taking the overall health and wishes of each individual woman into account."
Related Internet Links
The BBC is not responsible for the content of external sites.