Lindsay Lohan violates US court alcohol ban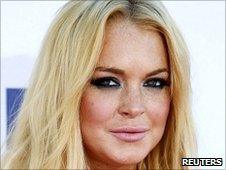 US actress Lindsay Lohan has violated the terms of a court order after an alcohol-monitoring bracelet indicated she had been drinking.
A judge in Los Angeles has now doubled her bail to $200,000 (£138,390).
Lohan's lawyer Shawn Chapman Holley, issued a statement saying the device had detected the "presence of a small amount of alcohol" on Sunday night.
The device is punishment for missing a court hearing relating to a drink driving charge.
It is designed to test the skin for alcohol every half hour by sampling a person's perspiration. There are also sensors that check for tampering.
"Having just received the report, I am not in a position to speak to its accuracy or validity, however Ms Lohan maintains that she has been in complete compliance with all of the terms of her probation and her bail," Mr Chapman Holley said.
Writing on micro-blogging site Twitter, Lohan said it was "physically impossible" for the bracelet to have given a positive report.
The actress has been on probation since August 2007 after pleading guilty to misdemeanour drug charges and no contest to three driving charges.
The device was fitted after she failed to attend a probation hearing in May because she claimed to be stranded in France.
Her lawyers said she was unable to fly back from the Cannes Film Festival after her passport was stolen.
The actress is now due back in court on 6 July, when the judge will decide whether she violated her probation.
The 23-year-old is facing jail time if it is decided she failed to comply with the terms of her probation.