Bill Gates offers $10m fund for mobile banking in Haiti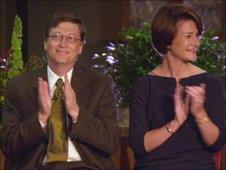 Alongside the billions of pounds worth of aid being pumped into rebuilding Haiti, a new project aims to give Haitians control over their own cash.
The Bill and Melinda Gates Foundation has created a $10m (£7m) fund for mobile banking services in the country.
Mobile banking is exploding in the developing world, encouraging saving and helping people out of poverty.
The Foundation hopes millions will take up the service in Haiti.
"Out of the ruins of Haiti's tragic earthquake, there is an unprecedented opportunity to improve the lives of millions of Haitians and unlock the country's economic potential," said Mark Suzman, acting president of the Global Development Program at the Bill and Melinda Gates Foundation.
The earthquake destroyed more than one third of the country's banks, ATMs and money transfer stations, which meant that there were severe cash shortages for Haitians.
Although traditional banks in Haiti are getting back to normal, only 15% of Haitian had a bank account before the disaster.
Amolo Ng'weno, deputy director of the Foundation's Financial Services for the poor, explained the genesis of the mobile money fund.
"After the earthquake in Haiti there were huge difficulties in getting cash to families there. If only there had been a mobile money system operating a lot of problems would have been reduced and people could have started rebuilding their lives immediately," she said.
The $10m fund will be divided among companies that build successful mobile banking in Haiti. The first one to launch a service which meets certain targets in the next six months will get $2.5m, and a second firm will receive $1.5m.
Another $6m will be awarded to the firm or firms that process the first five million transactions.
The Foundation hopes at least one million Haitians will take up services in the first two years.
Mobile banking has exploded in the developing world. A system introduced in Kenya three years ago now has more than nine million users, 40% of the adult population.
Now customers of M-Pesa are able to access more sophisticated banking services.
A study by the University of Edinburgh suggests that M-Pesa customers are increasing their incomes by between 5% and 30%.
According to the US National Bureau of Economic Research, households with access to saving accounts are more likely to invest in education, will increase productivity and income and are less vulnerable to illness.
"We are discovering anecdotally that there are some huge benefits to such services," said Bob Christen, director of the Foundation's Financial Services for the Poor.
"When people have to go into town to get money they tend to spend it there because it is not safe to carry it in wallets.
"Paying people locally means that they spend locally, which has a knock-on effect on the local economy," he said.
Since 2006, the Financial Services for the Poor initiative has spent $500m on similar schemes.
Related Internet Links
The BBC is not responsible for the content of external sites.